judith paul: a world of color
Not every artist has the joy and challenge of making kaleidoscopes. I do.
The joy comes not only in the designing and making of a unique scope but in knowing how truly interactive this art form is. Everyone who lifts and turns the scope is altering its components - and making new compositions. As an artist I select the elements inside the cell but the viewer gets to create a constant stream of new visions. I know I am interacting with each person who chooses to add one of my scopes to their life - or their collection.
Further joy comes from knowing that I can choose any material that attracts me. My own photography, sea glass from the ocean, recycled lamp parts, powder coated aluminum tubing, and recycled studio glass are only some of the components I work with. Because I believe the finest kaleidoscopes have liquid filled cells (as they offer the most variety to the designer and to the viewer) I create mine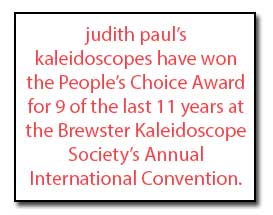 from the best acrylic and purest oil. I use only first surface mirror to obtain the clearest and most perfect images, and finish my scopes with 3 diopter glass lenses.
The challenge is to make a kaleidoscope of quality - one that not only looks beautiful but will stay that way. To that end I use only durable components and finishes. And only one man makes my mirrors - Tom Durden, a craftsman and perfectionist. I will not settle for less than the best.
I love what I do - the joy and the challenge of it -and I am proud of my work.
I welcome your comments & questions. Please feel free to contact me at info@judithpaul.com